Lot Availability
Lot offerings in Crown Isle
3611 Cameron Road – Royston
Almost built out, this area of fine country estates is minutes to town, on city water & allows secondary homes.  Enjoy rural living on 1.265 acres.  Cleared & ready to go either purchase for yourself… or talk to Benco about designing & building your dream home.  Many in-house plans & options available.
NOW SOLD
Lot 20 Sussex Drive (Lake Sussex Extension)
Wonderful quiet area in Crown Isle, is where you will find this 0.20 acre lot.  In an all built out newer area… at the end of cul-de-sac, against greenbelt & with South West exposure, this fantastic resell lot is being offered at a great price.  With a floorplan already designed… or start new, contact Benco to view the options for this fantastic lot.  Or, consider holding this lot for the future…
NOW SOLD
Greystone Phase 1 & 2
RESERVATIONS BEING TAKEN… Crown Isle introduces these luxurious lots in the heart of Crown Isle, with various lot options including on and off the golf course.  Close to amenities, and no through location contact Benco Ventures to discuss your options.  Lots starting at $315,000* (price and availability subject to change)
Talk to Benco about which areas will best suit your needs, and find your place to make home.
Cambridge Park Estates – Phase V & VI
Introducing the continuation of the ever popular Crown Isle Drive… bringing on various lot options including parkside, lakeside & on & off fairway opportunities. Discover the exceptional lifestyle in this quality controlled development.  Well under construction lot, check out the remaining home packages still available.  Contact Benco or view homes for sale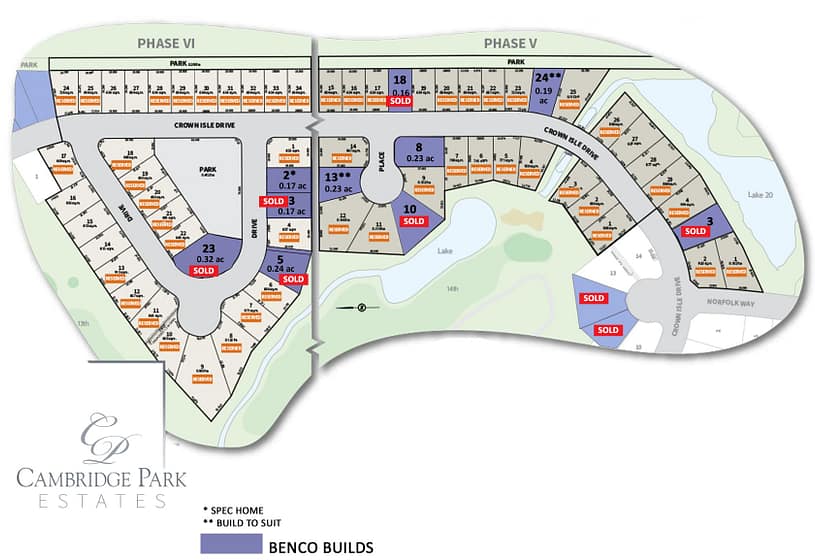 Do you already have a lot reserved? Contact Benco Ventures to explore building a custom home.
The Rise Phase 3 & 4
NOW READY TO BUILD ON… an affordable Crown Isle option in desirable Courtenay East. Offering lots starting at $195,000. With its own quality controlled design scheme too in place, this area is close to amenities, shopping schools & clubhouse.
Talk to Benco about which areas will best suit your needs, and find your place to make home.
Cambridge Park Estates – Phase IV
LOTS SOLD & HOME PACKAGES SOLD OUT IN THIS PHASE.  CLICK HERE FOR NEW HOMES FOR SALE
With the ability to proclaim multiple hundreds of successful custom home builds in the Crown Isle Community… discover building a custom home made easy.
Britannia Extension (Crown Isle Drive)
A select handful of lots in the heart of Crown Isle, these fantastic lots will be home to three new Benco Spec homes (package homes for sale).
NOW LOTS & HOMES SOLD OUT… consider the Cambridge Park Estate lots Phase V & VI for similar home options
Let the skills & vision of the Benco design team craft your next home
Sussex Lake 20 (Sussex Extension)
SOLD OUT… compact lots in this quiet no through area of Crown Isle enjoys a park & lakeside location… a unique area within the community many with southwest rear yard exposure.
Three designer homes check out these distinct beautiful new homes…. Now SOLD OUT… starting at $725,000.